Personal Finance | November 17, 2021
3 Ways to Give Internationally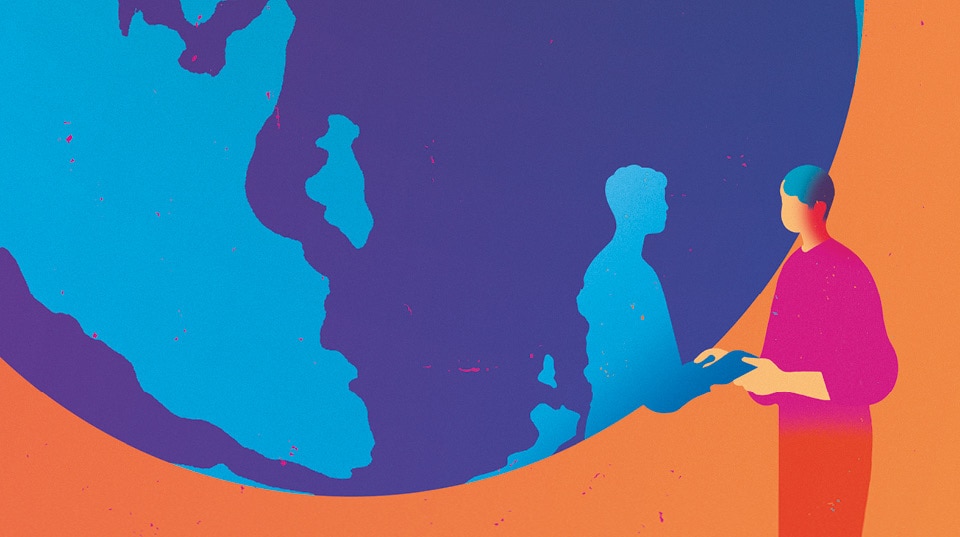 In 2004, a 9.1 magnitude earthquake off the coast of Sumatra propelled hundred-foot walls of water toward the shores of India, Indonesia, Sri Lanka, and Thailand. The so-called Boxing Day Tsunami claimed nearly 230,000 lives, decimated entire cities, and caused an estimated $10 billion in damages.1 It was one of the deadliest natural disasters of the past century.
In the months that followed, U.S. donors sent an estimated $3.16 billion in charitable contributions to the region.2 More recent international tragedies—such as the earthquakes in Haiti, the crisis in Afghanistan, and the wildfires in Australia—have inspired similar or even larger outpourings of generosity, making international affairs one of the fastest-growing charitable sectors over the past two decades (see "Altruism abroad," below). "It's difficult to watch crises unfolding abroad and not want to help," says Sam Kang, president of Schwab Charitable™.
But supporting international causes isn't always as straightforward or transparent as domestic giving. "If you want to give directly to an overseas charity, there are lots of hoops to jump through lest you run afoul of government regulations in that country or IRS guidelines," Sam says.
With that in mind, let's look at three methods for supporting international charities.
1. Granting to U.S. charities with global reach
You don't have to give directly to an international organization to make an impact abroad. Thousands of U.S.-based charities have global missions, including such household names as the American Red Cross, Doctors Without Borders (a.k.a. Médecins Sans Frontières), and the International Rescue Committee. "It's generally much easier to determine the reputability of a U.S.-based charity than a foreign one," Sam says. "Working with a familiar or trusted U.S.-based charity, in particular, can help allay some of those concerns."
It's also easier to determine the tax status of U.S.-based charities. "But not all gifts to U.S. organizations are tax-deductible, so be sure to confirm before donating," Sam says. With the assistance of tools like Charity Navigator and GuideStar, you can research program descriptions, financial reports, and other information to help identify the organizations best suited to your charitable goals.
Many donor-advised funds (DAFs), including Schwab Charitable, offer additional resources to help you further narrow your search. And when you give via a DAF, your contributions can be invested for potentially tax-free growth so you can maximize your charitable impact.
2. Giving directly to foreign charities
If your goal is to target specific populations or programs with your giving, you may wish to work with local organizations that can funnel your funds directly to those in need.
However, finding a reputable foreign charity can prove challenging. For one, donors must ensure they're not supporting organizations that are on U.S. fraud, sanctions, or terrorist lists. The Office of Foreign Assets Control maintains a database of prohibited entities.
Donors looking for income tax deductions on their gifts should also be certain the foreign charity satisfies IRS guidelines for international grant-making. You can search for tax-exempt foreign charities on the IRS website. If a charity isn't on the list, it must be vetted in one of two ways:
Equivalency determination (ED), in which an attorney determines whether the international organization is the legal equivalent of a U.S. charity based on a review of the organization's charter and other documentation.
Expenditure responsibility (ER), in which the grantor conducts a pre-grant inquiry—similar to the ED process—to ensure the recipient is able to fulfill the charitable purpose of the grant, and then monitors and reports the grant's progress to the IRS.
"The ED and ER processes generally are too onerous for individuals to manage themselves, making it difficult to give directly to some international charities in a tax-smart way," Sam says. "In such cases, giving via a DAF can be an attractive alternative."
Schwab Charitable, for example, can help identify qualifying foreign charities in line with your goals and do the heavy lifting of an equivalency determination through its Direct Global Giving Program.
3. Working with an intermediary
If you don't have the time or interest necessary to vet and monitor foreign charities but want to be sure your donations go directly to the communities you're aiming to support, consider working with intermediary organizations, which offer strategic guidance and make grants to local groups on donors' behalf.
"For a processing fee, these organizations' expert local staff review the nonprofit organizations for suitability, ensure gifts are disbursed as donors intend, and monitor projects firsthand for effectiveness," Sam says. "And if the recipient of your grant requires an ED or ER review, the intermediary will handle that process on your behalf."
For example, a donor interested in supporting women's education abroad might engage an intermediary to help identify reputable organizations making a meaningful impact in their communities. Once the donor settles on an organization to support, he or she donates to the intermediary, who then regrants those funds to the local charity. After the funds are distributed, the intermediary monitors the charity's impact to ensure donation dollars are being used effectively.
"When you give via Schwab Charitable, you have access to a network of vetted international intermediaries that are local to their areas of expertise and can perform a review of selected charitable organizations and projects," Sam says.
Start with a plan
As with most aspects of your finances, creating a plan can help ensure your charitable dollars have the greatest impact. "When you start with a plan, you're able to take the time and care to identify the right charitable methods and organizations—as well as get ahead of any legal or tax hurdles," Sam says.
1National Oceanic and Atmospheric Administration.
2"Americans Donated More Than $3 Billion to Tsunami Relief Efforts, Study Finds," philanthropynewsdigest.org, 12/26/2006.