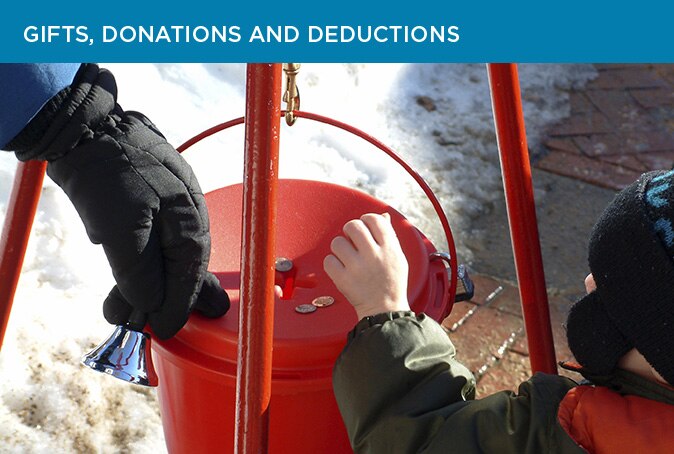 The giving season at year end often coincides with end-of-year tax planning—an overlap that can work in your favor, says Robert Aruldoss, senior financial planning research analyst with the Schwab Center for Financial Research. Whether you're interested in helping family members or donating to charity, it's possible to transfer assets in a tax-efficient manner while supporting the people and causes that are most important to you. Consider these five ways you can give that are worth discussing with a tax professional.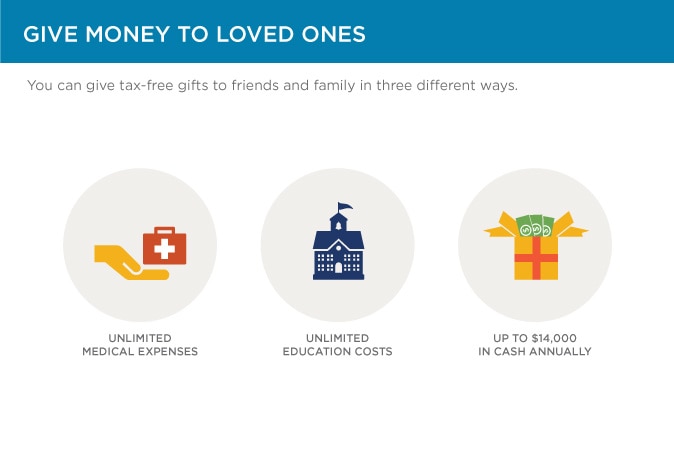 You can be quite generous to those you care about without triggering federal gift taxes or tapping your lifetime gift-tax exemption ($5.49 million in 2017). For example:
In 2017, you can give anyone up to $14,000—or $28,000 for married couples splitting gifts—per recipient per year. (Individual gifts beyond that will eat into your lifetime gift-tax exemption.) And the recipient won't have to pay tax on the gift—or even report it—unless it comes from outside the United States.
You can also make unlimited payments for medical bills or educational expenses on behalf of another, as long as the money goes directly to the provider.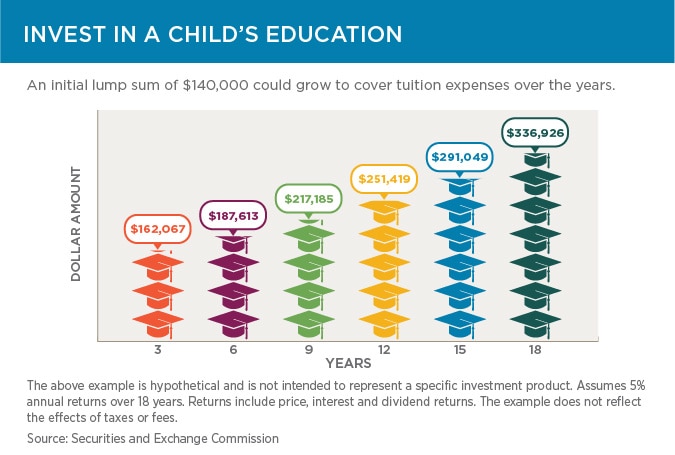 The yearly gift-tax exclusion also means that you can help fund a child's education savings without incurring additional taxes. And if you contribute to a 529 college savings plan, you have the additional option of a large lump sum contribution.
You can contribute five years' worth of exclusions in a single year—up to $70,000, or $140,000 if you're married—without triggering federal gift taxes, as long as you don't make additional gifts to that child during those five years. IRS Form 709 offers more information.
Making the gift as a lump sum offers the potential for significant tax-free growth, as shown above.
Some other benefits: Depending on the state and plan, contributions to an in-state 529 plan may be deductible from your state income tax. And the withdrawals are federally tax-free for qualified higher-education expenses. But be sure to explore your options; there are different ways to save for college, each with its advantages and disadvantages.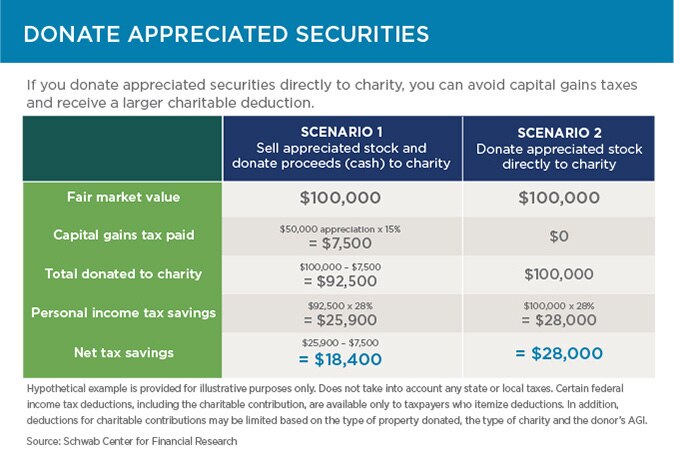 You're not confined to cash gifts. You can also choose to give appreciated stocks and bonds that you've held for more than one year to charity—or even to a relative. The above example assumes that an initial $50,000 investment has appreciated by $50,000, the donor is in the 28% federal income tax bracket, and all realized gains are taxed at the 15% long-term capital gains rate.
When donating long-term assets to a charity, you typically get a full-market deduction for your gift—and you won't owe capital gains tax. However, tax deductions may be limited to 30% of your adjusted gross income (AGI) for securities versus 50% of AGI for cash.
You can also sell securities that have lost value, offset the loss against capital gains and donate the cash.
Or you might opt to give securities to your children who are taxed at a lower rate (just be aware of the so-called kiddie tax).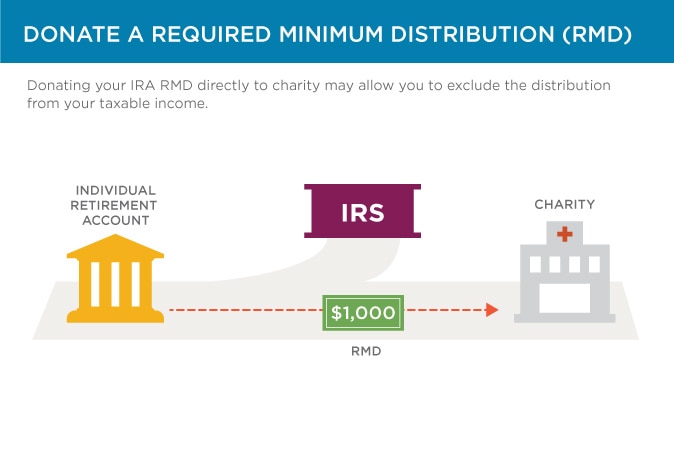 Recently passed budget and tax legislation has made an IRA-related tax benefit permanent. If you're age 70½ or more, you can donate from an IRA directly to charity—up to $100,000—and exclude the donation from your taxable income. And this "charitable IRA rollover" generally counts toward your required minimum distribution.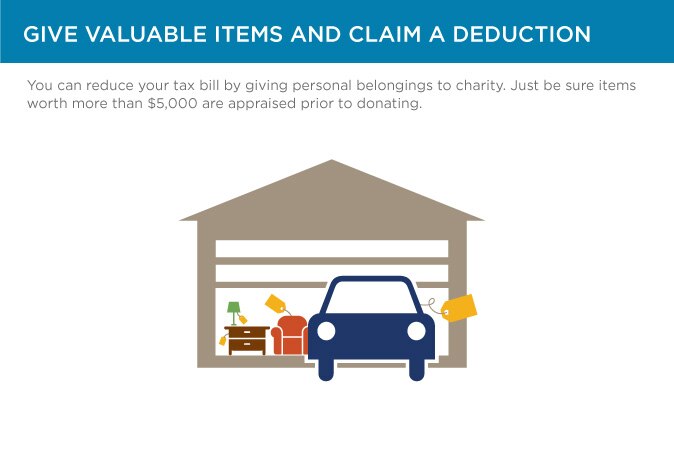 Another potential tax boon: You can claim a deduction when you donate personal items that are relatively valuable and in good condition—including such things as clothes, furniture or even a car. Charitable donations worth more than $5,000 will need an appraisal for your tax records. (If you are donating property that has appreciated in value—for example, antiques or art—consult a tax professional.) Even if the tax deduction itself is small, cleaning out the garage or attic can give you a fresh start for the new year.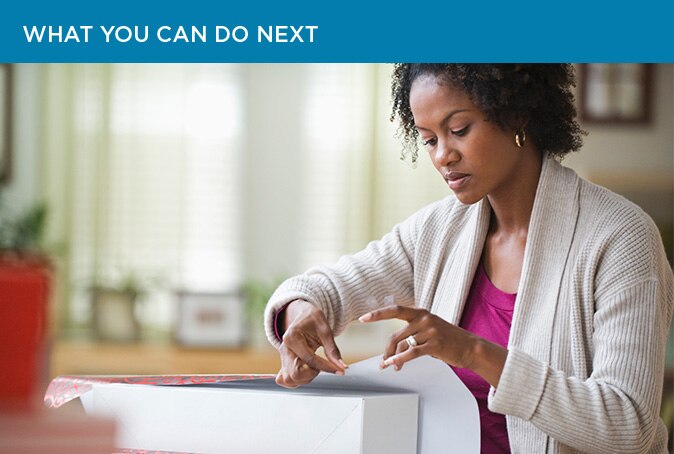 Giving to others can be rewarding. Discuss your options with a tax professional to make sure your plan is the most beneficial for everyone involved.
Disclosure
Important Disclosures
The information provided here is for general informational purposes only and should not be considered an individualized recommendation or personalized advice. The charitable strategies mentioned here may not be suitable for everyone. Each investor needs to review a donation strategy for his or her own particular situation before making any decisions.
As with any investment, it's possible to lose money by investing in a 529 plan. Additionally, by investing in a 529 plan outside of your state, you may lose tax benefits offered by your own state's plan.
All expressions of opinion are subject to change without notice in reaction to shifting market conditions. Data contained herein from third-party providers is obtained from what are considered reliable sources. However, its accuracy, completeness or reliability cannot be guaranteed.
Examples provided are for illustrative purposes only and not intended to be reflective of results you can expect to achieve.
This information is not intended to be a substitute for specific individualized tax, legal or investment planning advice. Where specific advice is necessary or appropriate, Schwab recommends consultation with a qualified tax advisor, CPA, Financial Planner or Investment Manager.
Show
Hide
Education and Insights:Commentary and Analysis
Include in Schwab Investing Insights email alerts
No
Compliance Code
0817-7BMD