Personal Finance | July 1, 2021
5 Ways to Save Money When Traveling Domestically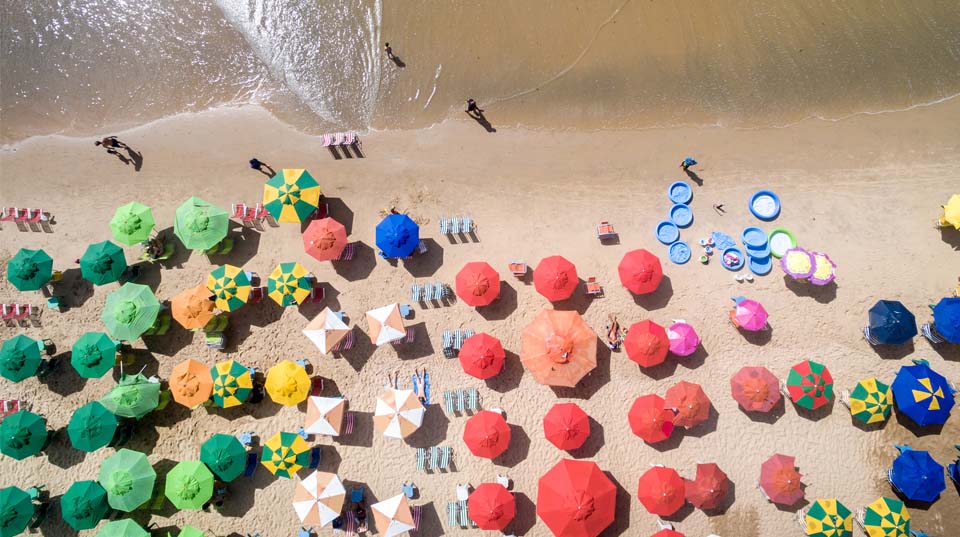 The COVID-19 pandemic limited travel for more than a year, resulting in a loss of more than $350 billion in domestic travel spending in 2020.1 As pandemic restrictions are lifted and more people get vaccinated, Americans are eager to leave their homes to see loved ones and for a change of scenery.
In 2020, Americans devoted $555 billion to domestic leisure travel.2 With a forecast of $671 billion in 2021, vacations and visits to friends and family are predicted to return to just 7.3% shy of 2019 spending levels. 
If you're like most American families, you probably devote a fair bit of money to airfare, food, gas, and lodging when you travel. Although travel costs are higher than last year, they remain 3.1% below 2019 prices as the hospitality and transportation industries continue to recover. With consumer spending increasing 11.4% during the first quarter of 2021 and hard-to-resist travel deals, you might easily find yourself going over budget. Careful planning can help you stretch your budget even further and give you more memories for less money. 
"Your vacation doesn't have to be expensive to be memorable," says Chris Kawashima, senior financial planning research analyst at the Schwab Center for Financial Research. "There are many ways to save money, and none of them make the experiences any less special."
Here are five ways to help keep travel costs down.
1. Go off-peak
You can save a lot of money if you can travel when others (think families on a school calendar) cannot. The prices of not just airplane tickets but also hotels and rental cars vary significantly based on demand. Think weekdays versus busy weekends. 
If you want to travel to Disney World with your kids, for example, steer clear of the weeks right around President's Day or the Fourth of July. If you want to be really contrarian, go to a summer resort destination—in the fall, or head to a ski mountain to go hiking in the summer. 
2. Buy early
Planning your travel can itself be fun, Chris says, and can get the whole family anticipating the upcoming vacation. Thinking ahead also saves money. 
Airfares climb fast in the weeks right before departure. A 2021 survey by CheapAir.com found that flyers get the best ticket prices if they buy around two months ahead of their travel date but no more than three months prior. Although you'll have a greater selection when airlines first publish fares, the price lowers the longer you wait to buy. 
3. 

Be adventurous
If you favor experiences over expensive indulgences, you may come away with a more memorable vacation, Chris says. Camping in a beautiful park may cost less than a hotel in ho-hum surroundings. 
The travel industry likes to market luxury, but good company can make any meal or outing more fun—no matter how much you spend. Your vacation doesn't have to be the occasion for your most expensive meal of the year. 
4. Mind the fees
The revenue airlines collect for something other than flying you from point A to point B has quadrupled over the past decade. Ancillary revenue—including fees for baggage, extra legroom, onboard food and beverage sales, boarding early, and other niceties—earned U.S. airlines more than $22.2 billion in 2019. Minimizing those charges can save a lot. Take advantage of the first-bag-free feature and other perks that some airline-branded credit cards offer. 
Similarly, you may be offered add-ons at the rental car counter—ranging from satellite radio to enhanced roadside assistance—that you don't need. Optional rental car insurance may be redundant with coverage a credit card or your own auto policy already provides, so there's no reason to purchase it. 
Finally, if you need to withdraw cash during your trip, try to find an ATM owned by your bank. Non-bank ATM fees are another expense that can add up when you're in an unfamiliar territory. Check with your bank to see if they have a policy for refunding fees. 
5. Be flexible
Be willing to go to the next town over for a cheaper hotel, or fly at a less convenient time to cut money off the fare. Renting an apartment or cottage instead of a hotel has become much easier thanks to vacation-home rental services. And with restaurant prices on the rise, being able to buy groceries and cook for yourself instead of eating out for every meal can save you quite a few dollars. Sometimes, "living like a local" can help save money and make your vacation more interesting.
Finally, don't fall into the trap of feeling like everything has to be perfect—no matter the expense—when you go on vacation. Travel experiences tend to get better in retrospect. "When you look back on a trip, the less-than-perfect parts will fade away, and the good stuff will be what everyone remembers," Chris says.
A cost-conscious travel companion
The Schwab Bank Visa Platinum Debit Card (available to Schwab Bank High Yield Investor Checking® account* holders) provides a wealth of benefits, including many that are helpful when traveling:
It's accepted at millions of merchant outlets and ATMs in more than 200 countries and territories worldwide.† 

You pay no foreign-exchange transaction fees for purchases made with your debit card.‡

All ATM fees you incur are rebated on a monthly basis.§

The card's travel benefits include Fraud Protection for Unauthorized Transfers or Purchases, Travel Accident Insurance, and Travel and Emergency Assistance Services. 
†Source: Visa Inc., as of 05/2020.
1"Fact Sheet: Travel's Dramatic Losses in 2020," U.S. Travel Association, 06/11/2021, https://www.ustravel.org/research/fact-sheet-travels-dramatic-losses-2020. 
2"Travel Forecast," U.S. Travel Association, Spring 2021, https://www.ustravel.org/system/files/media_root/document/Research_Travel-Forecast_Summary-Table.pdf.