Personal Finance | September 4, 2019
Here's How You Can Help Teachers Meet the Financial Education Challenge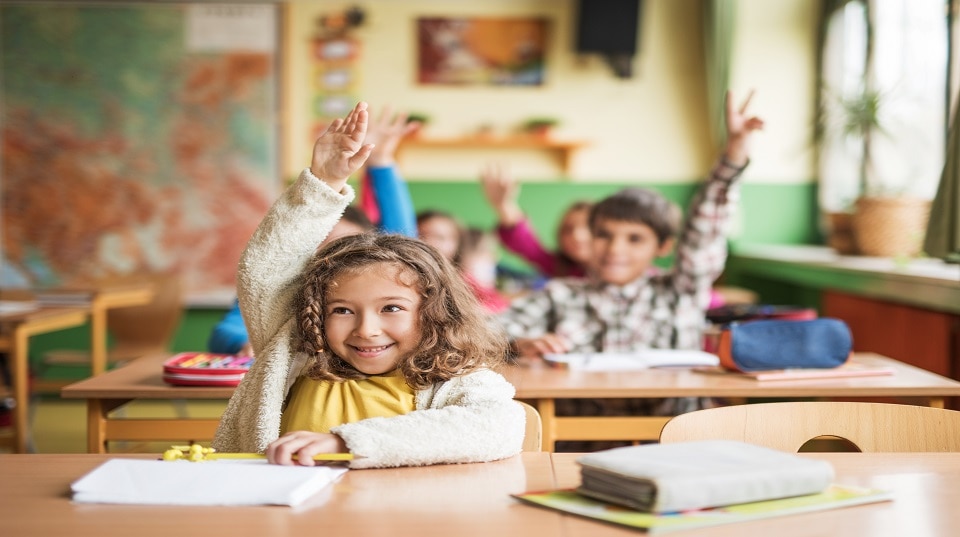 Key Points
A new school year brings a new challenge to incorporate financial education into our classrooms.

DonorsChoose.org and Charles Schwab Foundation have teamed up to offer teachers across the country help and support.

You don't have to be a teacher to get involved. There are lots of ways you can personally support financial education programs in your own hometown—and your own family.
Dear Readers,
What do dinosaurs and virtual reality have to do with financial education? A lot—according to teachers who responded to the most recent financial education Innovation Challenge sponsored by Charles Schwab Foundation in partnership with DonorsChoose.org. The challenge asked entrepreneurial K-12 teachers to come up with innovative ideas to bring financial concepts to life in their classrooms. And innovate they did!
More than 1,000 ideas were submitted—ranging from creating a dinosaur-themed money and number game for K-2 students to having middle schoolers budget for and take virtual reality fieldtrips around the world right from their own classroom. Top projects were chosen by a panel of financial literacy experts and funded with support from Charles Schwab Foundation. These projects were made available to teachers across the country in the form of lesson plans, all available on DonorsChoose.org. The result is a treasure trove of financial education ideas created by teachers for teachers.
Why this is so important—and encouraging
As a parent as well as a finance professional, I can't think of a better way to start off the new school year than with a focus on financial education. Recent research shows that while 92 percent of K-12 educators nationwide believe financial education should be taught in schools, only 12 percent include it in their classrooms. The reasons range from the lack of materials to not feeling qualified to teach the subject.
That's why the work done by DonorsChoose.org is so crucial. Working with citizen and corporate donors, they not only fund special projects and supplies—but also teacher training—to enhance and enrich the standard curriculum, not just in financial education, but in all subject matters. The current stats from DonorsChoose.org demonstrate how they're succeeding.
Since its inception in 2000:
83 percent of public schools in America have posted a project on the DonorsChoose.org website.

3.9 million citizen donors have contributed.

$864 million in classroom funding has been raised by a combination of citizen donors and corporate/foundation partners.

35 million students have been reached.
How teachers have responded
Statistics aside, the reason I'm so supportive of our partnership with DonorsChoose.org is the feedback we receive from teachers. Schwab hosted our first matching program on the DonorsChoose.org website in the spring of 2017 and since that time, we have held fall back to school as well as spring campaigns each year. Without fail, the feedback from teachers is positive and consistent.
For example, according to a survey last year, less than half of teachers reported feeling confident about teaching financial literacy. After they received financial education materials through the program, that number went up to 95 percent. Not only that, 98 percent said they plan to continue teaching financial literacy. That's music to my ears!
Ways you can help
To me, one of the great things about DonorsChoose.org is that while it's nationwide, it's also very local and personal. You can actually go to the website, enter your zip code and find teacher requests in your local schools to support. You can zero in on specific topics such as financial literacy and even look for projects that have matching corporate funding.
The financial literacy projects included in the Innovation Challenge go a step further by providing both teachers and parents access to the ideas and lesson plans. Just go to DonorsChoose.org to see the projects being featured. If you see one you like, you have a couple of choices. Right now, you can:
Encourage your kids' teachers to take a look at the ideas and incorporate them in their classrooms.

Consider how you might introduce some of the ideas to your own kids at home.
In addition, you can make a donation to any qualifying financial literacy project and, for a limited time, Charles Schwab Foundation will match contributions dollar for dollar, up to a total of $100,000.
Financial literacy is an ongoing challenge
With only 19 states currently requiring high school students to take a course in personal finance, today's young adults are far from equipped to handle modern financial challenges—including mounting student debt. However we don't have to wait until high school to help our kids get comfortable with financial concepts.
Parents as well as teachers can begin to creatively get kids involved in thinking about money early on. But it's not just about peaking their interest; it's about building solid financial skills at a young age. That way, our kids can begin the process of becoming informed, financially capable adults. And that's a legacy that can continue for generations.
Have a personal finance question? Email us at askcarrie@schwab.com. Carrie cannot respond to questions directly, but your topic may be considered for a future article. For Schwab account questions and general inquiries, contact Schwab.