Portfolio Management | March 3, 2022
How to Invest in Clean-Energy Trends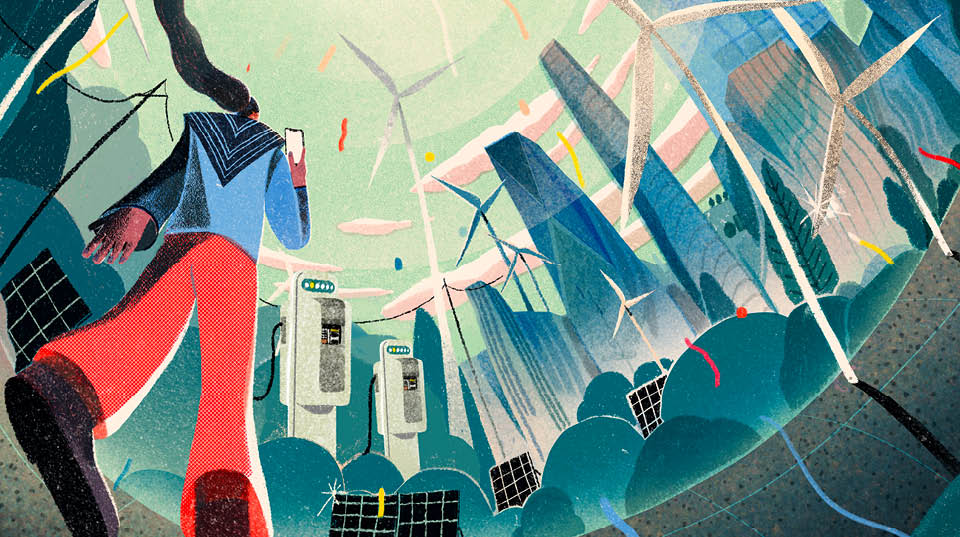 The energy sector is entering an era of cleaner and more sustainable business practices thanks to technological innovations, investor demand, and government policies.
In 2020, renewable energy generation in the U.S. surpassed that from both coal and nuclear energy for the first time ever,1 and by March 2021 nearly a fifth of the world's largest companies had set net-zero goals. There are many signs these trends will continue, including broad international support and the United Nations' ambitious goal of net-zero emissions by 2050.
While the transition away from fossil fuels may take decades to complete—and many risks exist as companies attempt to shift their business models—there may be opportunities along the way that can benefit investors and help support the shift to a cleaner future. Here are three ways investors can navigate the rapidly changing landscape.
1. Watch the trends
Among the most important developments in the approach to climate change are:
Clean-energy innovation:

Solar energy output could supply as much as 40% of the country's electricity within the next 15 years,

according to the U.S. Energy Department. Better solar and wind storage systems developed by various companies already allow more of us to harness the power generated on our own rooftops—rain or shine. This is just the tip of the iceberg, and advancement in energy efficiency should be watched, as well.

Clean-energy policies and investor demands:

Amid public insistence and global agreement, more government funding for clean-energy incentives and mandates is on the way. Regulations aside, many companies are already pivoting toward more environmentally friendly practices in response to consumer and investor demand.

Carbon-capture technology:

Reducing greenhouse gas emissions is also on the upswing. As of September 2021, at least 27 commercial-scale carbon-capture projects were in operation worldwide and an additional 106 were in development.2

Electric vehicle  adoption:

From 2015 through 2020, the combined number of all-electric and hybrid vehicles on the road in the U.S. more than tripled,3 and the number of combustion-engine vehicles within the global fleet will peak in 2038

, according to government projections

.4
2. Lean into the transition
Investors who want to participate in the energy transition might consider three key categories of companies:
Clean-energy innovators: Solar and wind companies are developing new technologies to make renewable energy less expensive and more efficient, and new energy sources (such as green hydrogen, which is made with water) may be added to the mix. Furthermore, innovations for reducing emissions—such as ultraefficient jet engines, energy-saving construction methods, and power grids managed by artificial intelligence—will be important drivers in the space. All these advancements are likely to require new manufacturing techniques, electronics, semiconductors, and materials to make them possible.
Energy consumers: Thousands of companies in high-emission industries have committed to shrinking their carbon footprints. As they work to achieve these goals—likely in concert with clean-energy innovators, such as those developing new carbon-capture techniques—these heavy energy users will potentially profit from cheaper cost of capital, lower expenses, and greater customer allegiance.
Energy producers: Utilities have already begun shifting away from fossil fuels. Many are switching electricity generation from coal to natural gas in a bid to reduce carbon output, and some have added wind and solar power to the mix. In addition, utility companies in some regions are encouraging battery storage, residential solar, smart electric meters, and other innovations that improve energy efficiency. A word of caution: This transition comes at a high cost, so government policies mandating changes could undercut profits in the near term.



In the oil-and-gas industry, some of the biggest companies—especially those based in Europe—are making strides in reducing their emissions. Many have invested in solar facilities and wind farms. Others are investing in cleaner hydrogen technology that will be needed to power heavy trucks and industrial machinery. It may seem counterintuitive to seek opportunities in this space, but companies that are quick to embrace a new model could be well positioned to succeed in a cleaner-energy world.
3. Beware the hype
As with any area of investing that's undergoing seismic change, it's important to not get caught up in the mania. Be sure to separate those companies that are walking the walk from those that are merely talking the talk—or investigate mutual funds or ETFs that do it for you. Consulting current research from reputable sources, as well as paying attention to news and trends in the clean energy space, can help you evaluate the opportunities outlined above based on your own priorities and appetite for risk.
 
1U.S. Energy Information Administration, 07/28/2021.
2Global Status of CCS 2021, Global CCS Institute, 2021.
3Global EV Outlook 2021, International Energy Agency, 04/2021.
4U.S. Energy Information Administration, 10/26/2021.