Personal Finance | September 22, 2020
Paying for Long-Term Care: Explore Your Options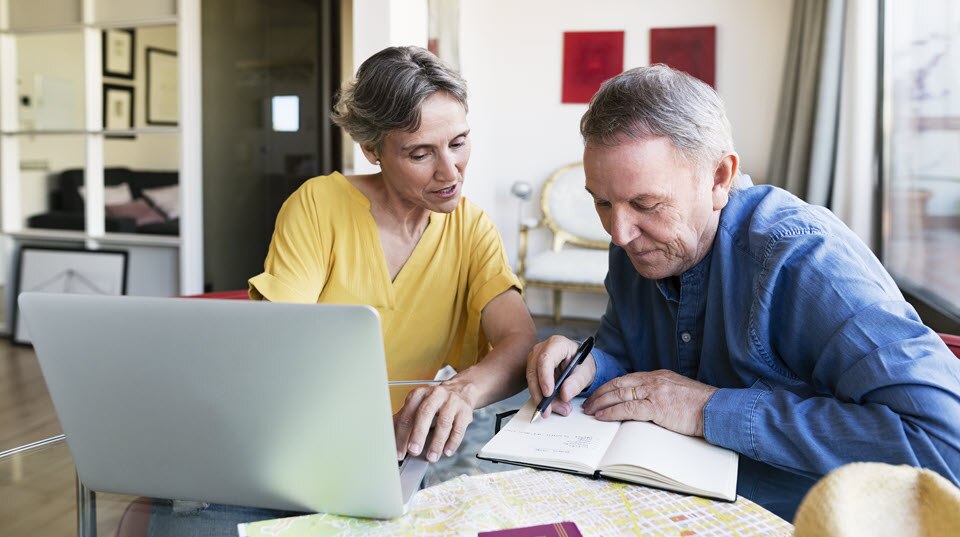 Key Points
The cost of long-term care is one of the biggest threats to your retirement security.

Long-term care insurance is specifically designed to cover these costs—but there's more than one kind.

Whether you purchase long-term care insurance or not, you need to have a long-term care plan.
Dear Carrie,
My husband and I are curious about long-term care insurance. It all seems so confusing. How can we decide if (and when) we should buy it, and if so, what kind?
—A Reader
Dear Reader,
Not only am I glad you're investigating one of the biggest risks to retirement security, I'm also really happy you're looking at this issue together. If either one of you ultimately needs long-term care, it will impact you both.
Long-term care (LTC) insurance comes in a variety of shapes and sizes, but all policies have some features in common. I've talked about some basics and the importance of LTC insurance before, but choosing a policy requires some extra thought. Here's what you need to know.
There are two types of policies—standalone and hybrid
Traditional, standalone policies just cover LTC. They're simpler, but premiums can increase over time and benefits are typically 'use it or lose it.' In other words, it's possible you'd pay increasing premiums over decades, and then suddenly pass away without ever using the benefit.
New "hybrid" policies combine LTC benefits with life insurance or lifetime income (annuity) benefits. While hybrid policies are more complex, they've increased in popularity, largely because the insured or a beneficiary receives some benefit even if there's no LTC claim. Additionally, many hybrid policies limit the period for paying premiums (for example in a lump sum or over 10 years), protecting you from having to pay a larger premium in the future.
LTC insurance is not health insurance
Both standalone and hybrid LTC insurance are designed to cover what the industry calls 'activities of daily living,' or ADLs—not general healthcare. Medicare doesn't cover this type of custodial care, which helps with eating, bathing, dressing, continence, transitioning, and toileting, or if you have cognitive impairment. In general, LTC policies will begin to pay benefits if you're unable to perform two out of the six ADLs.
LTC insurance isn't cheap—but not having it can be a lot more expensive
There's no two ways around it. LTC insurance is expensive. In general, insurance companies base their prices on the probability an event will occur and the cost of providing a benefit. In the case of LTC insurance, both are high:
The lifetime probability of needing help with at least two activities of daily living or of being cognitively impaired is 68 percent for people age 65 and older.

The average national monthly cost for a private room in a nursing home is $8,517 per month (2019).
Like life insurance, LTC insurance is cheaper the younger and healthier you are. Additionally, policies for females are more expensive than for males due to higher potential claims and longer life expectancy. As a general guideline, purchasing a LTC policy makes the most sense between ages 50 and 65. That's because if you buy it when you're young, you'll most likely be paying premiums for decades; if you wait too long, the cost may be prohibitive or a change in your health may make you ineligible. 
Several key factors determine the cost of a LTC policy; for example, number of years of coverage, maximum monthly or daily benefit caps, the wait period before the policy pays, and any inflation rider. The longer the coverage, the higher the caps to benefits, the shorter the wait or elimination period, and the greater the inflation protection, the higher the costs will be.
To give you a ballpark sense (based on the 2019 American Association for Long-Term Care Insurance Price Index Survey), the average cost for an initial $164,000 pool of benefits (which could increase over time) for a 55-year old male would be about $2,000 per year; $2,700 per year for a female.
Your circumstances will help you decide
You shouldn't buy LTC insurance if the premium will blow your budget. Period. A good guideline is that premiums shouldn't be more than 7 percent of your income. If you don't have much in savings, your only source of income is Social Security, or you're on Medicaid, you shouldn't buy a LTC insurance policy.
At the other extreme, people with substantial assets who are confident they'll be able to pay out of pocket for care needn't purchase LTC insurance. A financial planner can help you make this assessment.
If you're in-between, you might be a good candidate for long-term care insurance if you're in good health, can afford the costs (including possible premium increases), don't want to use most or all of your assets and income to pay for long-term care, and don't want to burden family or friends.
It isn't all or nothing
If you don't medically qualify or just can't afford to purchase the amount of LTC coverage you might want, don't despair. When it comes to paying for long-term care, there's room to be creative. 
First, it may not be necessary to buy a policy to cover all potential LTC costs. For example, if a married couple only buys a policy for one spouse, they still have some protection in place. Alternatively, some LTC policies allow spouses to purchase a joint policy with a common pool of benefits, which may be more affordable.
Second, some states offer special Medicaid asset exemptions for persons purchasing qualified LTC policies, known as 'Partnership' policies. These policies can increase the amount of financial resources you can protect and still qualify for state LTC assistance.
Finally, be sure to consider other resources you may have available. This can include family support such as help from an adult child or family member, community resources, health savings accounts (HSAs), home equity, pensions, Social Security, as well as other types of insurance. For example, while a LTC policy can serve to "shield" financial resources, a life insurance policy can "replace" financial assets to surviving beneficiaries, including a spouse.
Ultimately, figuring out the best way to pay for potential long-term care can be complicated, so talk with your financial advisor and an insurance agent to understand your options. Be an informed shopper. A Shopper's Guide to Long-Term Care Insurance is one great resource. And whether you ultimately decide to purchase LTC insurance or not, planning for long-term care costs is an important part of everyone's overall financial plan.
Have a personal finance question? Email us at askcarrie@schwab.com. Carrie cannot respond to questions directly, but your topic may be considered for a future article. For Schwab account questions and general inquiries, contact Schwab.