Market Commentary | February 17, 2022
Schwab Sector Views: When Growth Peaks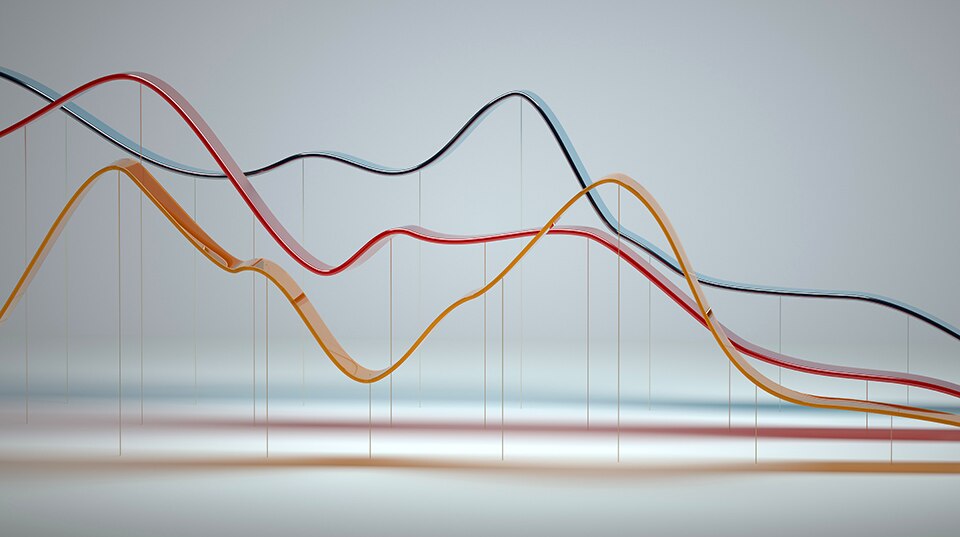 Schwab Sector Views is our three- to six-month outlook for stock sectors, which represent broad sectors of the economy. It is published on a monthly basis and is designed for investors looking for tactical ideas. 
Signs suggest that U.S. economic growth is settling into a slower pace and interest rates are on the rise, a combination that historically has signaled a shift in S&P 500® index sector leadership. For this and other reasons we'll explain below, we're upgrading our rating on Financials to "outperform" and Utilities to "neutral," while downgrading Materials and Industrials to "underperform." We're maintaining our outperform rating on the Health Care sector.  
Shifting toward defense
With higher inflation, central banks around the world have begun to unwind the massive stimulus that propelled the economy and markets through the COVID-19 pandemic. The Federal Reserve is widely expected to begin raising short-term interest rates at its March meeting, the Bank of England has hiked its policy rate twice already, and the European Central Bank has indicated it's considering tighter policy. We think monetary tightening could reinforce the slowing trend in economic growth that we're already seeing. 
It's true that some of the slowing as we entered 2022 was likely the result of the COVID-19 omicron variant surge, which is now easing. Also, household savings are still well above pre-crisis levels—but much of it may be in the hands of wealthier households that are less likely to spend it. For many others, the fiscal policy tailwinds from the last two years are likely to become a headwind as federal spending slows and provisions like increased child tax credits and student loan waivers expire. 
At the same time, consumer confidence has declined and higher wages are being eaten up by inflation—including rising rents following the surge in home prices—which could further weigh on already weakening consumer spending. We're seeing this cooling in the rate of growth in some of the more reliable economic indicators, like the ISM Purchasing Managers Indexes (PMI)—which provide a good look into current and potentially near-term economic activity. The ISM Manufacturing PMI reflects supply management professionals' views on things like new orders, prices paid, supplier delivery times, and labor conditions for industries such as machinery, computer & electronics products, chemicals, and transportation equipment.  The ISM Services PMI measures business activity in non-manufacturing industries, like real estate and construction, wholesale and retail trade, financial services, and utilities. As the chart below shows, both the manufacturing and services PMIs have fallen from recent highs.     
Economic growth appears to have peaked, but remains positive
Source: Charles Schwab, Bloomberg. As of 2/7/2022.  The ISM Report on Business® is composed of data from purchasing executives in the manufacturing and services sector, representing industries corresponding to their contribution to gross domestic product (GDP). A PMI index reading over 50 represents growth or expansion within the manufacturing sector of the economy compared with the prior month. A reading under 50 represents contraction, and a reading at 50 indicates an equal balance between manufacturers reporting advances and declines in their business.
However, it's important to point out that both indicators remain well above 50 index points—the line separating growth and contraction in business conditions—which is consistent with a still-healthy economy. The risk of recession remains low, according to various recession probability models—like the Federal Reserve Bank of Cleveland's recession model, shown below. This falls in line with the PMIs remaining above 50 for the time being. 
Despite slowing growth, the risk of recession is low
Source: Charles Schwab, Bloomberg. Federal Reserve Bank of Cleveland Recession Model uses past values of the slope of the yield curve and GDP growth to provide predictions of future GDP growth and the probability that the economy will fall into a recession over the next year.
Nevertheless, when the manufacturing PMI peaks—which, again, is not necessarily a precursor to a recession—there is typically a rotation out of cyclical, or more economically sensitive, stocks into more defensive areas of the market. At the most basic level, this makes sense—the traditional defensive sectors include products and services people need even in a slowing economy: Health Care, Utilities, and Consumer Staples, to name a few. As shown in the chart below, a composite of cyclical sectors relative to defensive sectors tended to track the ISM manufacturing PMI lower following each peak between the 2007-2008 financial crisis and the beginning of the COVID-19 pandemic.   
Cyclical relative to defensive sectors tend move with the manufacturing PMI
Source: Charles Schwab, Bloomberg as of 1/31/2022. The Cyclical/Defensive index is a composite of the price-weighted relative returns of cyclical sectors (Financials, Materials, Industrials, Consumer Discretionary) divided by defensive sectors (Utilities, Health Care, Communication Services, Consumer Staples). Past performance is no guarantee of future results.
As you can see in the bubble chart below, the most cyclical sectors on the right side—Financials, Energy, Industrials, Consumer Discretionary, and Materials—tend to outperform when the manufacturing PMI index is rising, placing them in the upper-right quadrant. That's not surprising when you consider how much impact a strong economy typically has on sectors supported by manufacturing growth or consumer spending. Conversely, the traditionally defensive sectors on the left side of the chart—Utilities, Real Estate, Consumer Staples, Communication Services, and Health Care—tend to outperform when the PMI declines, putting them in the lower-left quadrant. These sectors include companies whose products and services are consumed even in a weak economy, or who typically pay high dividends that are attractive during a period of slower market growth.
Sector sensitivities vary to PMI and cyclical/defensive factors
Source: Charles Schwab, Bloomberg as of 1/31/2022. Each bubble represents a S&P 500 Index sector, with the bubble size correlating to the market cap of the respective sectors. Based on a regression using 11 years of quarterly data, the position in the chart reflects the sensitivity to changes in the ISM Manufacturing Purchasing Managers Index (vertical axis) and a composite of cyclical sectors relative to defensive sectors (horizontal axis). Past performance is no guarantee of future results. 
Could it be different this time?
In general, the relative performance of the sectors in the year following a peak in the manufacturing PMI confirms these relationships, with a couple of exceptions. It's notable that the overall S&P 500 index historically has risen after these peaks, which is consistent with ongoing economic growth—though market volatility typically rises.
In terms of sectors, all the defensive sectors have tended to outperform the overall market, on average. At the same time, most of the cyclical sectors tended to underperform, particularly Materials, Energy, and Industrials. Financials are an exception to what might be expected, given the sector's quite cyclical nature, outpacing the overall market 50% of the time. Many of these occurrences were near Fed rate hikes—when Financials tend to outperform. 
This highlights the fact that none of these sector relationships held in all 10 instances of PMI peaks since 1990 used for this analysis—which raises the question: Could the line-up of relative performance be different this time? The answer is most likely "yes."

Relative sector performance one year after peak in manufacturing PMI
Source: Charles Schwab, Cornerstone Macro as of 1/31/2022. The peaks in the ISM Manufacturing PMI and subsequent 1-year relative performance of the sectors were provided by Cornerstone Macro. Identified peaks in the PMI used in this analysis are 8/31/2018, 8/31/2014, 2/28/2011, 4/30/2010, 12/31/2003, 6/30/2002, 9/30/1999, 7/31/1997, 10/31/1994, 9/30/1991. Past performance is no guarantee of future results.
As we've said many time in these articles and most investors already know, this business cycle—driven to a large extent by the COVID-19 pandemic—has been like no other in the modern era. For example, interest rates have taken a different path from their typical relationship with the manufacturing PMI. As can be seen in the chart below, instead of moving in near-lockstep with the PMI, the 10-year Treasury yield trailed during the recovery and has been rising while the PMI has been falling recently. Given the Financials sector's tight positive relationship to interest rates, if this anomaly continues—which we think that it will—the recent Financials outperformance could endure.  
Interest rates have deviated from the PMI recently
Source: Charles Schwab, Bloomberg. As of 2/7/2022. 10-year U.S. Treasury constant maturity yield. Past performance is no guarantee of future results.
Our sector views
In light of these relationships outlined above, we've upgraded our view on Financials to outperform, consistent with our expectations for continued—albeit slower—economic growth and higher interest rates amid elevated inflation and the Fed's likely persistent tightening of monetary policy. 
We've cut our views on Materials and Industrials to underperform, largely based on our expectations that the rotation out of the most cyclical sectors will continue. We're maintaining our outperform rating on Health Care, a view bolstered by the sector's solid long-term fundamentals, strong profitability, and attractive valuations. You can find more about our views on these and other sectors here.
Meanwhile, despite its track record of sharply underperforming in this environment, we're holding Energy at neutral, given the high risks in the oil markets associated with the growing uncertainties in Eastern Europe and the Middle East. 
If you're looking for more insights on how the various sectors might react when the Fed begins raising interest rates, check out What to Expect When Rates Rise.
What do the ratings mean?
The sectors we analyze are from the widely recognized Global Industry Classification Standard (GICS®) groupings. After a review of risks and opportunities, we give each stock sector one of the following ratings: 
Outperform: likely to perform better than the broader stock market* 
Underperform: likely to perform worse than the broader stock market*
Neutral: no current view on likely relative performance
* As represented by the S&P 500 index
Want to learn more about a specific sector? Click on a link below for more information or visit Schwab Sector Views to see how they compare. Schwab clients can log in to see our top-rated stocks in each sector.
| | | |
| --- | --- | --- |
| Communication Services | Financials | Materials |
| Consumer Discretionary | Health Care | Real Estate |
| Consumer Staples | Industrials | Utilities |
| Energy | Information Technology |   |
How should I use Schwab Sector Views?
Investors should generally be well-diversified across all stock market sectors. You can use the Standard & Poor's 500® Index allocations to each sector, listed in the chart above, as a guideline. 
Investors who want to make tactical shifts in their portfolios can use Schwab Sector Views' outperform, underperform and neutral ratings as a resource. These ratings can be helpful in evaluating and monitoring the domestic equity portion of your portfolio.
Schwab Sector Views can also be useful in identifying stocks by sector for potential purchase or sale. Clients can use the Portfolio Checkup tool to help ascertain and manage sector allocations. When it's time to make adjustments, Schwab clients can use the Stock Screener or Mutual Fund Screener to help identify buy or sell candidates in particular sectors. Schwab Equity Ratings also can provide a fact-based and powerful approach for helping you select and monitor stocks.
 
What You Can Do Next
Review your sector allocation. If you aren't sure how to analyze your sector weightings, a Schwab Financial Consultant can help.

Explore our views on individual sectors in Sector Views.

Talk to us about the services that are right for you. Call us at 800-355-2162, visit a branch, find a consultant or open an account online.