Retirement Income | August 17, 2020
Starting a Business in Retirement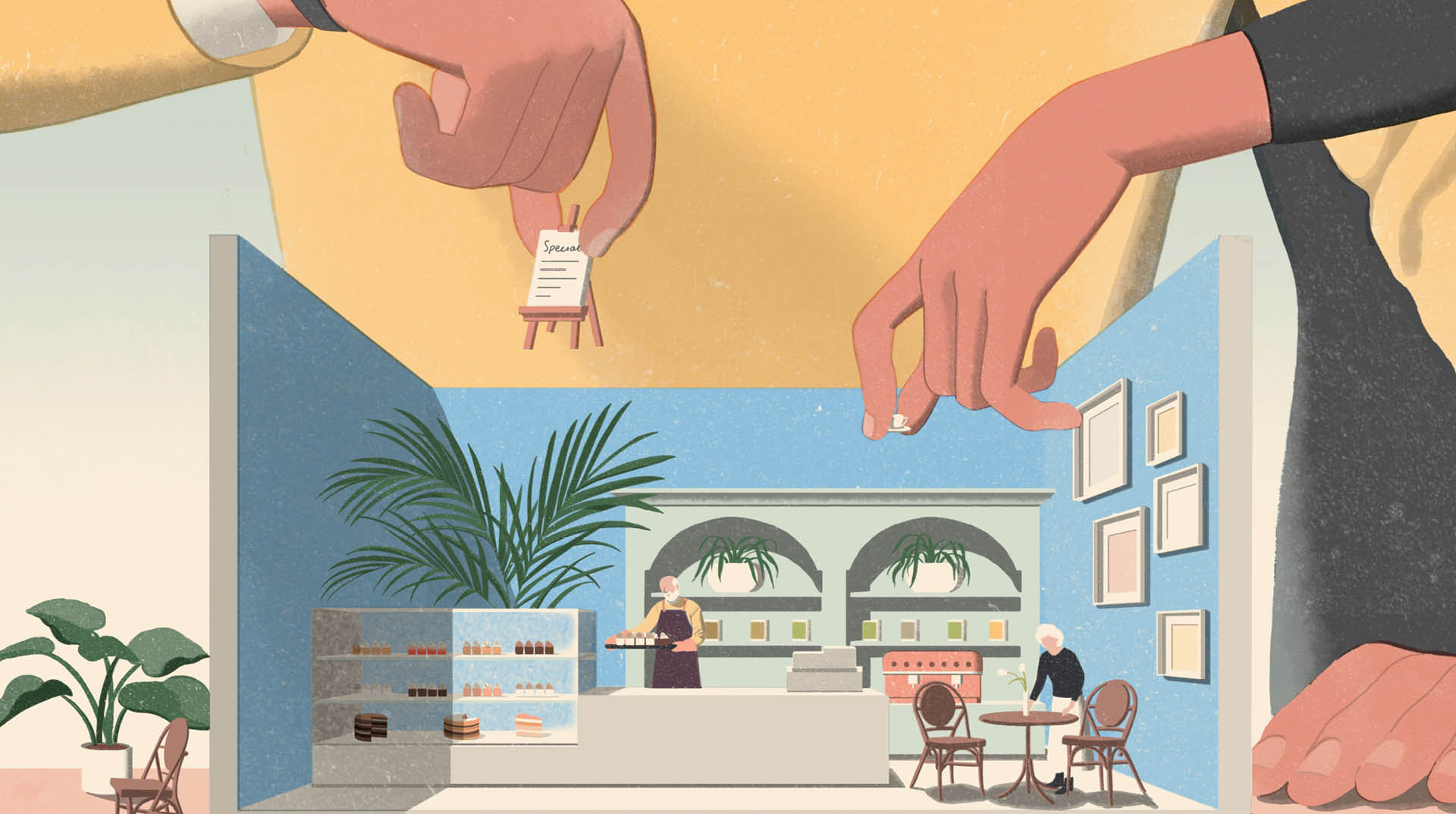 For some retirees, it may be time to retire the word retirement.
Indeed, for the decade ending in 2024, the Bureau of Labor Statistics predicts a 55% rise in labor participation among those 65 to 74 years old and an 86% increase for those 75 and older—compared with an increase of just 5% for the labor force as a whole during the same period.1
"More and more of our clients are looking to remain active in retirement," says Marcela Garcia, a Schwab senior financial consultant in Los Gatos, California. "That often includes setting up a small business in a field they couldn't pursue sooner because they had a family to support during their earning years. Now, they want to venture into something that's really close to their heart."
One couple Marcela works with stands out. They retired with a comfortable investment portfolio and moved from California to Idaho, where some neighbors got them interested in the local real estate market. "They found it so engaging that they began dabbling in higher-end real estate projects themselves—and the business just took off," she says. "They're in their 70s, and they're having a grand old time."
Even those with knowledge of the industry or business environment they're entering into may find that their past experience isn't enough, since there can be blind spots around funding, insurance, taxes and other issues. Fortunately, a financial advisor can help fill in the blanks.
"It's really about doing your homework," says Ken Szymanski, a managing director at Charles Schwab Banking & Trust Services. "Take the time to understand the effort and resources necessary for success."
 



Step 1: Plan


 
If you're funding the business even partially out of your own pocket, make sure you have a clear plan for balancing your personal expenses with your business expenses.
Julia Acer, a financial advisor at Schwab Private Client Investment Advisory who's based in Phoenix, suggests dividing existing assets into buckets. "Carve out a portion to support the business, but make sure you're protecting those funds earmarked for retirement and any legacy you hope to leave behind," she says.
A financial planner can help you determine how much you can afford to invest in a new business without upending your near- and long-term goals. 
Financial planners can also help clients assess the potential tax consequences of working in retirement. Medicare and Social Security, for example, both have income thresholds above which either additional premiums or increased taxes must be paid. IRS-mandated required minimum distributions from your tax-deferred savings accounts beginning at age 72 (70½ if you turned 70½ in 2019 or earlier)  can also add to your income, with potentially negative tax consequences.
 



Step 2: Fund


 
Some prospective business owners may consider selling real estate or drawing upon savings for startup capital. Others may contribute cars, securities or other assets directly to the business itself.
If you're not planning to tap your savings or don't have sufficient resources to fund your business, you might need to consider borrowing. Taking on new debt in retirement has its risks, so it's important to explore all available options, fully understand the terms of the loan and have a solid plan for paying it back.
For example, will you pursue traditional financing, such as a home equity line of credit (HELOC) or a personal loan, or will you try to qualify for a small-business loan? Traditional financing is typically easier to secure because it doesn't require a formal business plan or a specific use case, but it can be riskier because it ties your personal finances to the health of your business. Small-business loans, on the other hand, can be separate from your personal finances but undergo a more rigorous approval process and may be limited to established businesses.
A third option is to pursue a nontraditional line of credit, such as a pledged asset line, which lets you borrow against the value of your nonretirement assets while keeping your investment strategy on track. 
"A pledged asset line may be a good fit for someone who requires access to capital but doesn't want to sell any investments," Ken says. "It's a flexible borrowing solution that can be used for just about any purpose related to the business, from paying monthly expenses to purchasing land." (For more, see "Schwab Bank's Pledged Asset Line®," below.)
 



Step 3: Protect


 
"A lot of people think setting up a business is just a matter of hanging out a shingle—and that can be a big mistake," says Hayden Adams, CPA and director of tax and financial planning at the Schwab Center for Financial Research. "You should consider filing documents that treat your business as a separate legal entity."
For example, many small businesses begin as a sole proprietorship, but that could lead to your personal assets being used to settle business debts or even a lawsuit. "If somebody sues your business and it's not structured properly, they could potentially take your car, house or hard-earned savings," Hayden says. Registering a business as a limited liability company (LLC) or a C or an S corporation, on the other hand, can help protect the owner's assets in the event the company is sued.
All three entities aid in protecting owners personally from the liabilities of the business, but they differ in the ways in which they are managed, owned and taxed. LLCs, for example, are generally quite easy to set up and have fewer formal requirements. C and S corporations, on the other hand, have many more legal, tax and other structures.
Hayden also suggests considering liability insurance as an additional safeguard against unforeseen incidents, such as a guest becoming injured while staying at a bed and breakfast.
 



Step 4: Prepare


 
Another potential pitfall is inadequate tax planning. Starting a business can expose owners to new taxes they may not have anticipated, including estimated taxes paid quarterly. 
By the same token, a small business can open up tax deductions unavailable to those who don't own businesses, such as the cost of setting up a home office and travel expenses. And if you choose to structure your business as a pass-through entity, such as an S corporation, you may qualify for additional deductions—but you also may be subject to additional tax-reporting requirements. Consulting an accountant or tax advisor can help you to make the most of both situations.
In addition, many businesses will need to prepare to pay employment taxes and make Social Security remittances, along with various taxes such as excise, sales and use taxes. "You can get into a whole bunch of financial trouble if you start a business without knowing the federal, state and local tax rules. That's why a good tax advisor is a must for any business owner," Hayden says.
 



Step 5: Hire

No novice business owner is expected to know every detail up front. A good financial planner can offer higher-level guidance on topics such as taxes, insurance and even best business practices, while pointing you toward other specialists—including an accountant and an attorney—who can handle the nitty-gritty. "Many times a new business will try to cut corners by going it alone, but that can expose you to unforeseen risks and cost you down the road," Hayden says.
Translating a lifelong dream into a successful enterprise can be tricky, to be sure, but it often starts with the right advice. "We can help to provide frameworks for success," Julia says. "In my experience, the more focused an older entrepreneur's vision and mission are, the more successful her or his business will likely be."
 
1 "Older workers: Labor force trends and career options," 05/2017.