Personal Finance | June 10, 2021
What to Consider When Buying an RV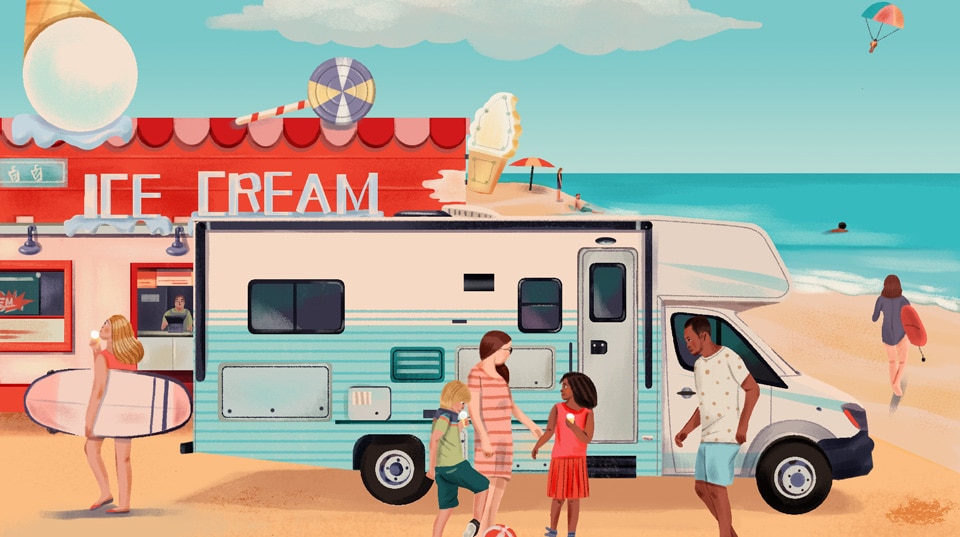 Dear Carrie, 
We're a young family that wants to travel safely and cost-effectively. Is buying an RV a good idea? And where should we start?
—A Reader
Dear Reader,
If months of being cooped up at home have you dreaming of the open road, you're not alone. Sales of recreational vehicles jumped 6% in 2020, with suppliers hustling to keep up with an even greater demand in 2021.
Interestingly, owners are getting younger, with the under-45 crowd representing the fastest-growing segment of RV owners. Indeed, we've come a long way from tossing a cooler and a couple of sleeping bags in a VW bus (as a colleague of mine nostalgically recalls doing with her young family in the '70s). Now we want a place to sleep in the wilderness and a modern office to take on the road.
But as much as you might love the idea of "RVing," the reality of owning and maintaining an RV could become a bit of a financial headache if you're not careful. Here are a few things to consider before buying an RV.
Be realistic about what you want
Understanding how—and how often—you'll use the RV will help you determine the type to buy. Are you looking for basic amenities or deluxe features? Do you need space for an office or additional guests? Most important, how much RV can you afford? From a used camper van to a state-of-the-art motor home, the differences in features and cost can be staggering; prices can range from several thousand dollars to well over $500,000.
When you step aboard one of the new, completely decked-out models, you'll be wowed. But remember: A brand-new RV, like any other vehicle, will likely lose a significant chunk of its value as soon as you drive it off the lot. So, before you open your wallet, take a deep breath and carefully evaluate your priorities.
Don't underestimate ongoing costs
Let's say you find the RV you want at a price you can handle. Have you thought about expenses beyond the purchase price? For example, the usual expenses that come with owning and driving a vehicle—gas, insurance, maintenance, registration, and repairs—could cost a lot more for an RV than they do a regular car or truck. Plus, having a large RV parked in your driveway may not sit well with the neighbors—and could even be against the rules in your neighborhood or city—so you may need to factor in storage costs, as well.
You may think that what you'll save on typical vacation expenses like airfare, hotel bills, and restaurants will balance out these additional costs, and that's a good point. But be sure to also factor in campsite fees and related charges like propane. And with the recent popularity of RV travel, you may have to reserve your campsites well in advance—which can undercut the thrill of spontaneously hitting the road.
If you plan to finance the purchase, also think about how much that loan will cost you over the long haul. Recent statistics show the average amount financed for an RV is $45,000, with terms typically ranging from five to 10 years—or as long as 20 years if your loan is in the hundreds of thousands of dollars. Choosing a longer-term loan can make the monthly payments more manageable, but it also means you'll be paying more interest (see "Loan ranger," below)—and rates for RV loans tend to be higher than those for auto loans.
Loan ranger
A longer-term loan may make for more manageable monthly payments, but don't overlook the true cost of such financing.
| | | |
| --- | --- | --- |
|   | Five-year loan | 10-year loan |
| Amount borrowed | $45,000 | $45,000 |
| Interest rate | 5.5% | 6% |
| Monthly payment | $860 | $500 |
| Interest paid over life of loan | $6,573 | $14,951 |
| Total cost | $51,573 | $59,951 |
Interest rates are hypothetical and for illustrative purposes only but are reflective of prevailing rates for five- and 10-year loans by borrowers with excellent credit as of 01/27/2021. Totals have been rounded to the nearest dollar.
Don't let your other goals take a back seat
While I totally understand the allure of an RV, especially after the cabin fever we've all been experiencing, you should approach such a purchase as a financial decision like any other. Start by looking at your budget to see if and how it fits in—and remember, this is a want, not a need, and belongs on your nonessentials list.
Next, ask yourself what short-term trade-offs you'll have to make to handle this new expense. If you finance the vehicle, will it increase your debt load beyond a manageable level? More important, are there any long-term consequences to consider? If the cost of buying and maintaining an RV will leave your savings for other goals running low—especially when the goal is retirement—it may be best to hit the brakes.
Try before you buy
You don't have to own an RV to experience life on the road. National rental companies and marketplaces (similar to Airbnb) can point you to a range of RVs for hire in your area. Renting could mean the trip of a lifetime and convince you that buying an RV is right for you. Or it may help you avoid a major case of buyer's remorse down the road.