Carrie Schwab-Pomerantz reflects on her time working at Charles Schwab and shares parting words as she enters her second act.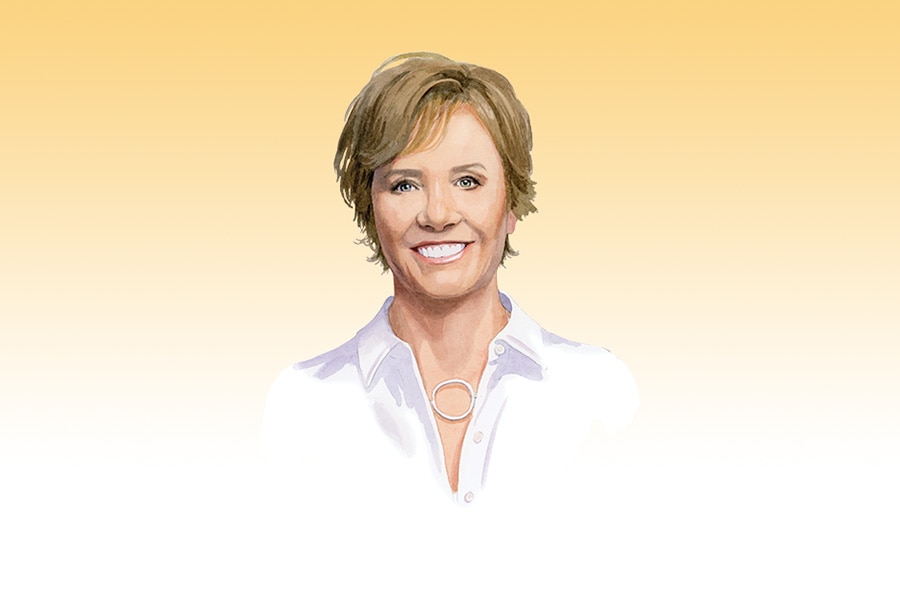 Dear Readers,
I was 16 years old when I began my first job at Schwab. There were only about a dozen of us back then. My first assignment? Filing. Eventually I graduated to answering phones and providing stock quotes.
Mostly, though, I was watching and listening as the group laid the groundwork for an extraordinary organization. Little did I know what the future would hold for Schwab, for financial services, or for my own journey—from working with clients to advocating for investors and financial literacy for all.
That brings me to today, a bittersweet moment. After more than 40 years in a variety of roles at Schwab, I'm stepping away from this column, my dream job, and the best colleagues in the world to focus on a new role: member of Schwab's board of directors. I'm honored by the opportunity to serve in this new way.
Reflecting back, every new assignment provided me with critical lessons—not just about finance, but also about people and life. From working with clients and heading up the Women's Initiative to collaborating with Boys & Girls Clubs of America and creating national financial literacy programs, I've had extraordinary opportunities to work with committed, creative, and caring individuals who weren't afraid to break through the status quo to achieve something new, something better.
From these experiences, one message emerges loud and clear: Financial literacy is vital for everyone, regardless of age, background, or wealth. I say that because smart money management leads to so much more than a bigger bank account. It leads to financial stability, which means more choices for you and your family. It means you can do great things without worrying about day-to-day expenses. And ultimately, it means you and your loved ones can face life with confidence and optimism. We all deserve nothing less.
What's more, it doesn't have to be complicated. Yes, the financial world is complex, and it's easy to get bogged down in details. But the basics of sound money management don't change:
Live within your means.
Be a dedicated saver.
Diversify your holdings.
Avoid gimmicks and get-rich-quick schemes.
Stay invested for the long haul, through the downs as well as the ups.
These simple, tried-and-true fundamentals are the North Star for us all. My father taught me this when I was 23 and opened my first IRA. I asked for his advice, hoping to hear about the next hot stock. But he simply said, "Split your money between two broadly diversified equity funds, keep contributing every year, and then sit tight." It took years for me to appreciate the simple truth of what he was saying. It's wisdom for the ages.
I want to encourage every reader to follow suit. As you increase your financial know-how, pass it on. Have regular and honest conversations with your partner about the financial nuts and bolts as well as your dreams and aspirations. Teach your daughters and sons—and your granddaughters and grandsons—both with your words and through your actions.
Last, continue learning. Managing money is a lifelong journey. Don't be afraid to seek help or ask questions—and keep asking until you get answers that make sense.
When my father founded Schwab 50 years ago, his goal was to build a firm that offered what hadn't been available to him. A firm dedicated not just to the wealthy but to every investor.
Which is why it is important to me that you continue to benefit from timely and time-tested perspectives on personal finance. That's why a team of Schwab's most knowledgeable experts will launch a new column called Money Talk this summer in place of Ask Carrie, collectively offering their perspectives on an array of financial topics. Here's a sneak peek of our team of Money Talk experts:
Jeannie Bidner: She understands the balancing act between a busy career and family life. At home with her husband, Jeannie is mom to two growing children with a third child in college. At the office, Jeannie is a CERTIFIED FINANCIAL PLANNER™ professional and managing director within the branch network at Charles Schwab.
Susan Hirshman: Susan has helped clients with personal finance and tax planning for many years. She loves the outdoors and believes that experiences, not things, are what make life joyful. Susan is a CERTIFIED FINANCIAL PLANNER™ professional and director of wealth management for Schwab Wealth Advisory and the Schwab Center for Financial Research (SCFR).
Patrick Means: In college, Patrick discovered he was good with numbers. But what he really wanted to do was help people. He found that financial planning was a way he could do both. Today, Patrick is a Certified Wealth Strategist and a vice president and branch manager at Schwab.
Cindy Scott: In a college finance class, Cindy participated in a stock market simulation and discovered a new way to view money and how to grow wealth. Today, she understands the importance of creating a financial plan—and knows that it's never too late to start saving and investing. Cindy is a CERTIFIED FINANCIAL PLANNER™ professional at Schwab.
I'll be back next week to officially pass the torch to this impressive group. In the meantime, know that I'm grateful to you, to my colleagues, and to this exciting new team of Money Talk experts. I'm confident I'm leaving you in excellent hands.